Biliary Anatomy Quiz


1. The upper limit of normal for the dimensions of a gallbladder are:

---

2. (T/F) The gallbladder is divided into three fundamental regions: fundus, body, and neck.

---

3. (T/F) Approximately 80% of stones are lucent cholesterol and 20% contain enough calcium to be detected on radiograph.

---

4. (T/F) Porcelain gallbladder has a gender bias, most frequently affecting males.

---

5. Which of the following is the most likely long-term complication of porcelain gallbladder? (shown below)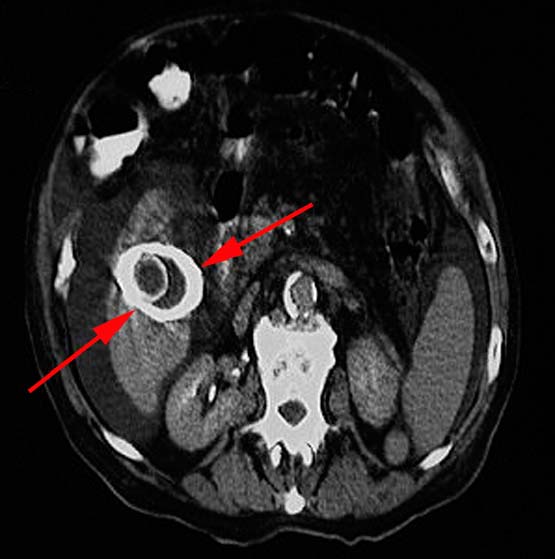 ---

6. What condition does the following image most likely represent?

---

7. Which of the following predisposes to emphysematous cholecystitis?

---

8. (T/F) Patients with emphysematous cholangitis have an increased risk of perforation and treatment usually requires emergent cholecystectomy.

---

9. (T/F) Choledochal cysts are the most common congenital bile duct anomaly.

---

10. (T/F) Patients with choledochal cysts have an increased incidence of other gallbladder anomalies, biliary stenosis/atresia, and congenital hepatic fibrosis.

---

11. Caroliís Disease is a type of choledochal cyst characterized by: (use the axial CT slice below)

---

12. Which of the following is NOT a predisposing condition for cholangiocarcinoma:

---

13. (T/F) Choledochal cysts are more common in females

---

14. (T/F) Cholangiocarcinoma is the most common primary malignancy of the biliary system.

---

15. (T/F) Cholangiocarcinomas are typically situated as extrahepatic lesions vs. intrahepatic

Your score is out of 15.
Do you want to see the answers?
© Copyright Rector and Visitors of the University of Virginia 2021