Esophagus Quiz

1. The most common form of tracheal-esophageal fistual is:
Esophageal atresia with a proximal TEF
Esophageal atresia with a double TEF
An isolated esophageal atresia
Esophageal atresia with a distal TEF
An isolated TEF
---
2. Communicating esophageal duplications are four times more common than noncommunicating esophageal duplications.
True
False
---
3. It is radiographically impossible to differentiate esophogeal duplications from bronchiogenic cysts.
True
False
---
4. All lower esophageal rings are classified as Schatzki rings.
True
False
---
5. The following images depict: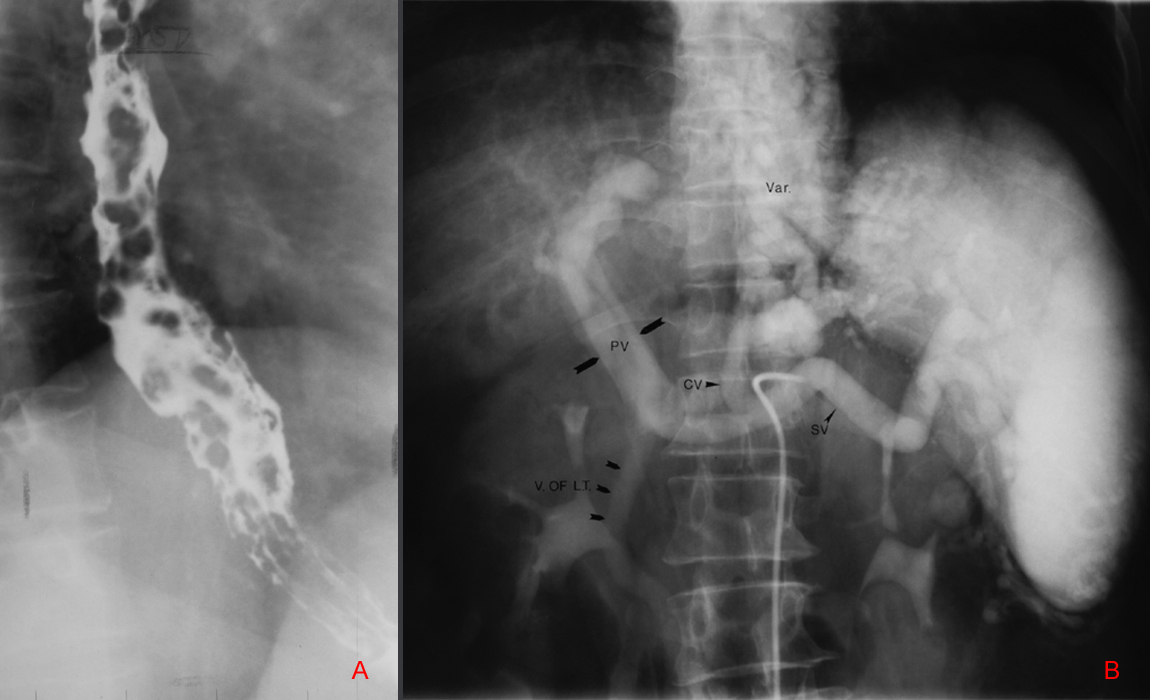 Infectious esophagitis
Scleroderma
Esophageal varices
---
6. Which of the following may be associated with thoracic esophageal rupture:
Hydropneumothorax
Widened mediastinum
Pneumomediastinum
Pleural effusion
All of the above
---
7. Esophageal perforations due to Boerhaaves's syndrome are usually horizontally oriented and located on the right side of the esophagus.
True
False
---
8. Chagas' disease and achalasia have identical radiographic findings.
True
False
---
9. The appearance of the esophagus below is typical of what disease process: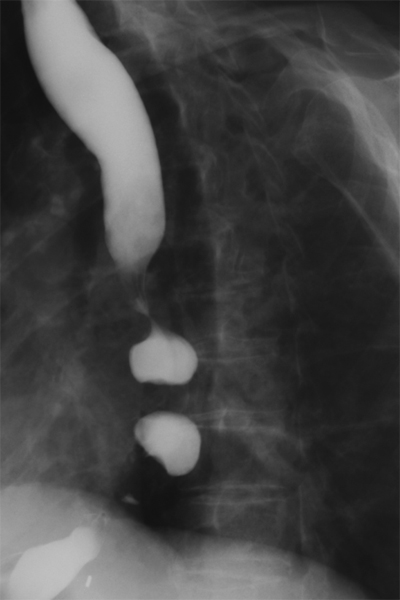 Chagas' disease
Scleroderma
Diffuse esophageal spasms
Achalasia
---
10. All of the following are usually found in reflux esophagitis EXCEPT:
Ulceration
Mucosal nodularity
Diffuse dilatation
Abnormal motility
Thickened folds
All of the above are often found in reflux esophagitis
---
11. The classic radiographic features of Barrett's esophagitis are high esophageal strictures or deep penetrating ulcers.
True
False
---
12. The majority of esophageal carcinomas are of the adenocarcinoma type.
True
False
---
13. Infants with tracheal-esophageal fistulas tend to have scaphoid abdomens and absent bowel sounds.
True
False
Your score is out of 13.
Do you want to see the answers?
© Copyright Rector and Visitors of the University of Virginia 2021