Head CT > Infection > Ventriculitis / Ependymitis

Ventriculitis / Ependymitis

Inflammation and enlargement of the ventricles characterizes ventriculitis. Ependymitis shows hydrocephalus with damage to the ependymal lining and proliferation of subependymal glia. A CT of patients with these conditions reveals the presence of periventricular edema and subependymal enhancement. Ventriculitis and Ependymitis affect approximately 30% of the adult patients and 90% of the pediatric patients with meningitis.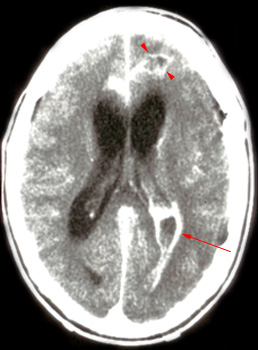 In this post contrast CT scan, note the ring enhancing
brain abscess (arrowheads) and enhancement of the
ependymal lining of the atrium by the left lateral ventricle (arrow).
© Copyright Rector and Visitors of the University of Virginia 2021