Head CT > Tumor > Glioblastoma Multiforme

Glioblastoma Multiforme

Glioblastoma Multiforme is the most aggressive grade of astrocytoma. The two-year survival rate of patients diagnosed with Glioblastoma Multiforme is 10-15%. On CT, GBM is characterized by necrosis and irregular enhancement. It is one of very few lesions that frequently cross the corpus callosum.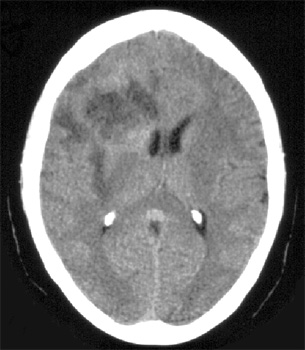 Notice the ill-defined low density in the right frontal region.
An image post contrast administration in the same patient reveals patchy
enhancement, a portion of which is crossing the corpus callosum (arrow).
© Copyright Rector and Visitors of the University of Virginia 2021