Primary Benign Cardiac Tumors

Myxomas are the most common primary cardiac tumor. They tend to occur in middle aged patients and are more common in women then men. Patients may have peripheral embolization of the tumor, obstruction of an atrial-ventricular valve, or symptoms of a systemic disease (fever, malaise, etc). They are typically pedunculated masses located in the left atrium. T1-weighted spin echo images show a mass with intermediate signal intensity similar to myocardium. However, this signal may be variable due to calcifications that are hypointense or hemorrhage that is hyperintense to myocardium. On gradient echo images, myxomas usually have a signal lower than the surrounding blood. Myxomas typically enhance heterogeneously.
Lipomas are the second most common primary cardiac tumor, and like fat elsewhere in the body, have a high intensity on T1-weighted images that darkens on fat suppressed sequences. Other benign primary heart tumors include fibroma, rhabdomyoma, and hemangioma.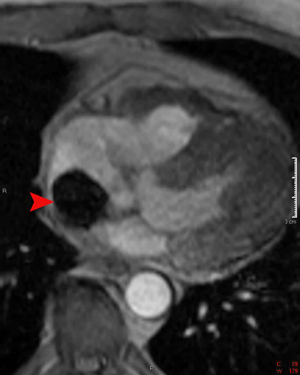 This gradient echo image demonstrates a myxoma in the right atrium (arrowhead). The myxoma has very low signal intensity due to the thrombus and chronic blood products.
This gradient echo cine from a different patient again shows a left atrial myxoma. During the course of the cardiac cycle the tumor moves into the mitral valve, which can cause obstruction. This myxoma is attached to the atrial septum.
© Copyright Rector and Visitors of the University of Virginia 2021