Pericardial Masses

Pericardial cysts are congenital masses that are often located in the right cardiophrenic angle. These may appear as pericardiac masses on chest radiograph. Cardiac MRI can be useful in characterizing these lesions. On spin-echo imaging, they typically have a low intensity on T1-weighted imaging and homogenous high signal intensity on T2-weighted imaging. Lipomas are another benign lesion that sometimes arises from the pericardium; they typically have a high signal on T1-weighted imaging with loss of signal on fat saturated imaging.
Primary malignancies of the pericardium are rare. The most common is primary pericardial mesothelioma. The pericardium is more commonly a site of metastases from lung, colon, and breast cancer. All metastatic tumors will typically enhance.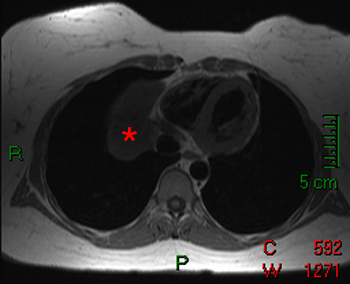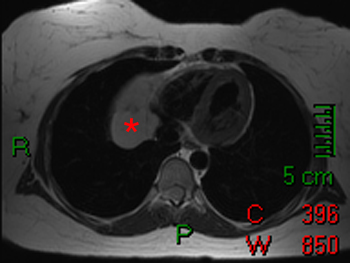 These spin echo images demonstrate a pericardial cyst (*) adjacent to the right heart. The cyst is relatively low signal on the T1-weighted images (left) and relatively high signal on T2-weighted image (right).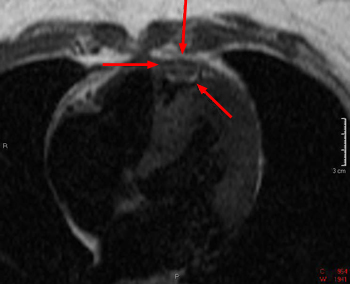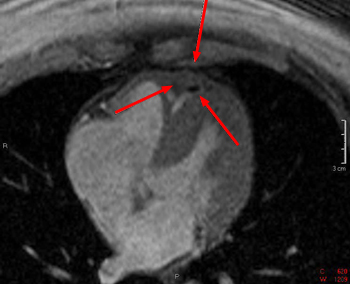 These spin echo (left) and gradient echo (right) images show a mass within the pericardium. It is somewhat heterogenous and is not consistent with a benign pericardial cyst. This patient was found to have a pericardial mesothelioma.
© Copyright Rector and Visitors of the University of Virginia 2021