Dilated Cardiomyopathy

Dilated cardiomyopathies (DCM) are a common cause of congestive heart failure (CHF) characterized by fibrosis and a decreased number of myocytes. They are the most common primary cardiomyopathy. About half of cases are idiopathic, but the rest are usually due to metabolic, infectious, inflammatory, or toxic etiology.
The characteristic abnormalities seen on MRI are impaired wall thickening, dilation of heart chambers, and impaired myocardial fiber shortening. The abnormalities seen in primary dilated cardiomyopathies are fairly similar to those seen as the end result of CAD (ischemic cardiomyopathy). Delayed gadolinium enhancement can be used to differentiate the two entities. As previously discussed, old infarcts demonstrate delayed gadolinium enhancement in a coronary distribution. Delayed enhancement may or may not be present in dilated cardiomyopathies, but when present it involves the subepicardium or mid-myocardium as opposed to the subendocardium.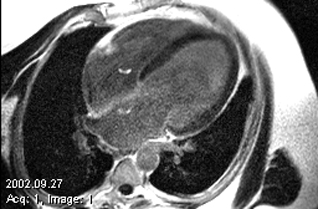 Dilated cardiomyopathy demonstrating global dysfunction on cine SSFP imaging (top) and no delayed hyperenhancement (bottom). The image on the bottom does not represent end-stage ischemic disease because there is lack of DHE is a coronary distribution.
© Copyright Rector and Visitors of the University of Virginia 2021